History of Gammage Print Shop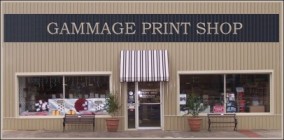 Gammage Print Shop was founded in 1923 in downtown Americus, Georgia. The store remains in the same location at 109 East Lamar Street. The successful printing shop has been passed down through three generations of family ownership. Today customers are greeted by third, fourth, and fifth generation family members as they enter the front door.
Ernest L. Gammage was a printer and the founder of Gammage Print Shop. In the early days printing needs revolved around the local commerce, especially the agricultural industry.
Gammage Print Shop has grown through the years and changed with time from the older-style letter presses, then adding offset presses and now continuing to keep abreast with technology to meet our customer's requirements. Today Gammage Print Shop offers a broad range of services, as well as a high level of expertise in all phases of the printing process...from initial concept to delivery of the finished product.